ESOTERIC COMPANY (Headquarters: Tama City, Tokyo; President: Hiroshi Oshima) will exhibit the linestage preamplifier "Grandioso C1X solo", stereo power amplifier "Grandioso S1X", and super audio CD/CD player "K-05XD" at the Tokyo International Audio Show 2022, which will start on October 28.
Product Name
Model Name
Estimated Delivery Date
Linestage Preamplifier
Grandioso C1X solo
Year 2023
Stereo Power Amplifier
Grandioso S1X
Year 2023
Super Audio CD/CD Player
K-05XD
Year 2023


Grandioso C1X solo
The Grandioso C1X preamplifier in separate 2-chassis configuration is condensed into a single unit. Completely independent left and right mono-block configuration and state-of-the-art circuit technology. The flagship preamplifier of the "SOLO" series, the ultimate in uncompromising philosophy and craftsmanship.
Key Features
Full dual mono-block configuration in a one-piece chassis
Thoroughly low noise by fully balanced configuration
Ultra-fidelity attenuator system with 0.1dB/1,120 steps
Discrete amplifier module "IDM-01
Unique ESOTERIC-QVCS volume control system that eliminates audio signal routing
ES-LINK Analog" proprietary current transmission system with 3 inputs and 2 outputs
ESOTERIC-HCLD output buffer circuit with 2,000V/μs slew rate current transmission enhancement
2 XLR outputs and 2 ES-LINK Analog outputs enable construction of a multi-power amplifier system
5-transformer configuration with 4 high-capacity audio toroidal transformers and 1 EI transformer for control system
Input switching circuit using FET elements eliminates coloration of sound quality by relays
High-precision ball bearing control knobs for smooth feeling without any blurring.
Input gain adjustment: ±18dB (0.1dB step), L/R balance adjustment: ±6dB (0.1dB step)
AV-through function with selectable input terminals
External control port RS-232C terminal
Power ON/OFF control by trigger input and power control of power amplifier by trigger output
Remote control with buttons on both sides to control ESOTERIC source devices (RC-1334)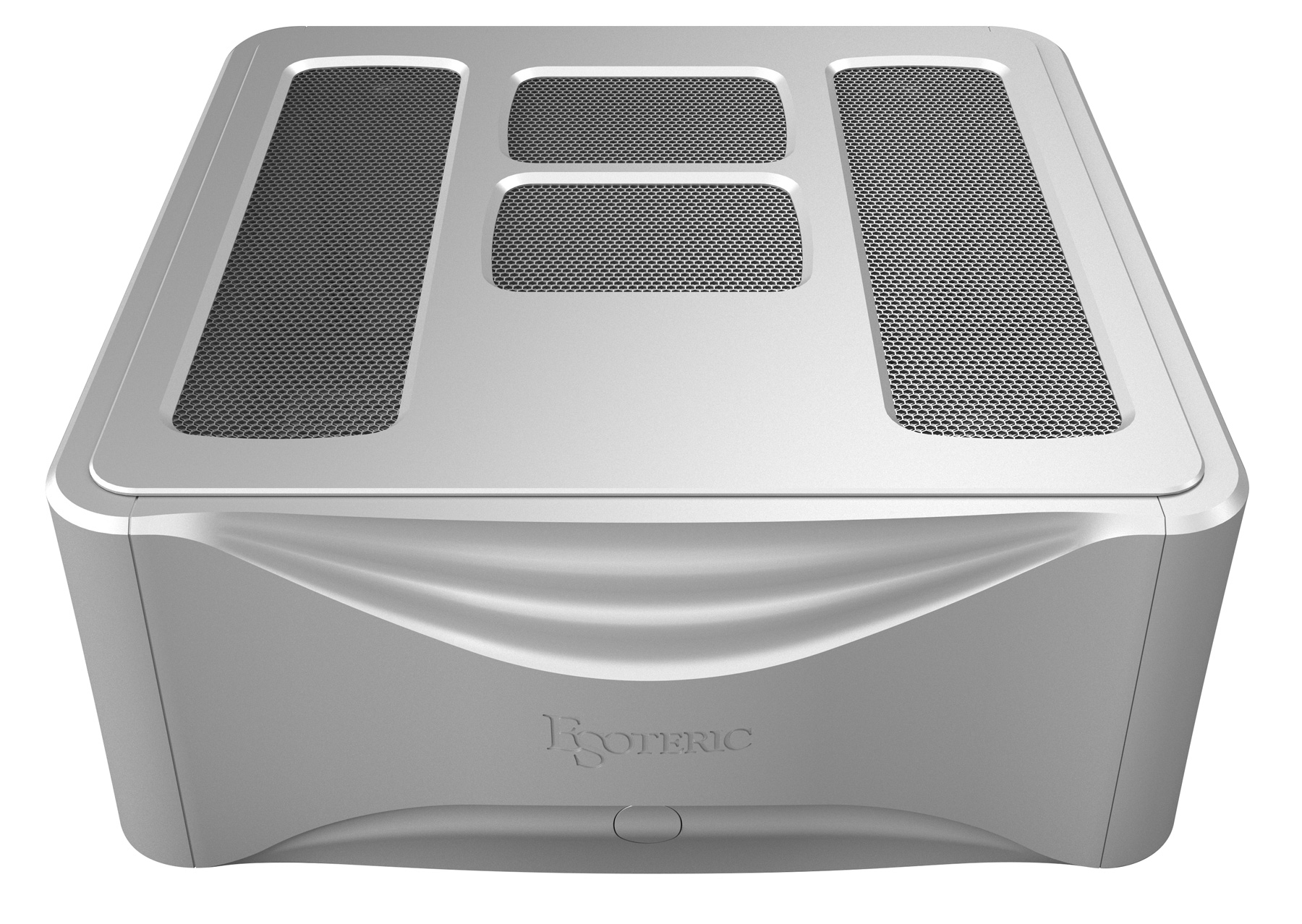 Grandioso S1X
Intricate and dynamic. Open up and depict all of the music.
The Grandioso S1 "X" Edition, a new reference in Class A stereo power amplifiers.
Key Features
Newly designed drive stage with 5-parallel push-pull drive by high-capacity bipolar transistors
Class-A operation at 50W/8 ohms delivers a dense musical expression that combines precision and dynamism.
ES-LINK Analog transmission that challenges the limits of fidelity between pre/power
Excellent power linearity (50W/8Ω - 100W/4Ω) that produces overwhelming dynamics
Large-capacity toroidal-core power transformer that is highly adaptable to dynamic current supply changes
Three-transformer configuration with independent power transformers for the front stage, drive stage, and control system
High-capacity Grandioso custom block capacitors (10,000μF x 6/ch) for each channel
Pure copper busbars, ultra-thick wiring, and shortest pattern connections significantly reduce internal impedance.
Balanced audio connections for each circuit block to ensure low noise.
High quality sound parts such as FET switch for input switching and discrete amplifier module IDM-01 are used.
Two modes, BTL drive and bi-amp drive, are available for further system upgrades by combining two units.
Newly designed Class-A construction with an enlarged chassis the size of M1X
Chassis design optimizes internal vibration control by thoroughly pursuing a balance between rigidity and flexibility.
Dual honeycomb grills and semi-floating top panel for heat exhaust efficiency and a sense of sound emission
Specially constructed pinpoint isolation feet to reduce mechanical stress
Special wave-shaped heat sink to reduce peak resonance
Power ON/OFF control is possible via trigger input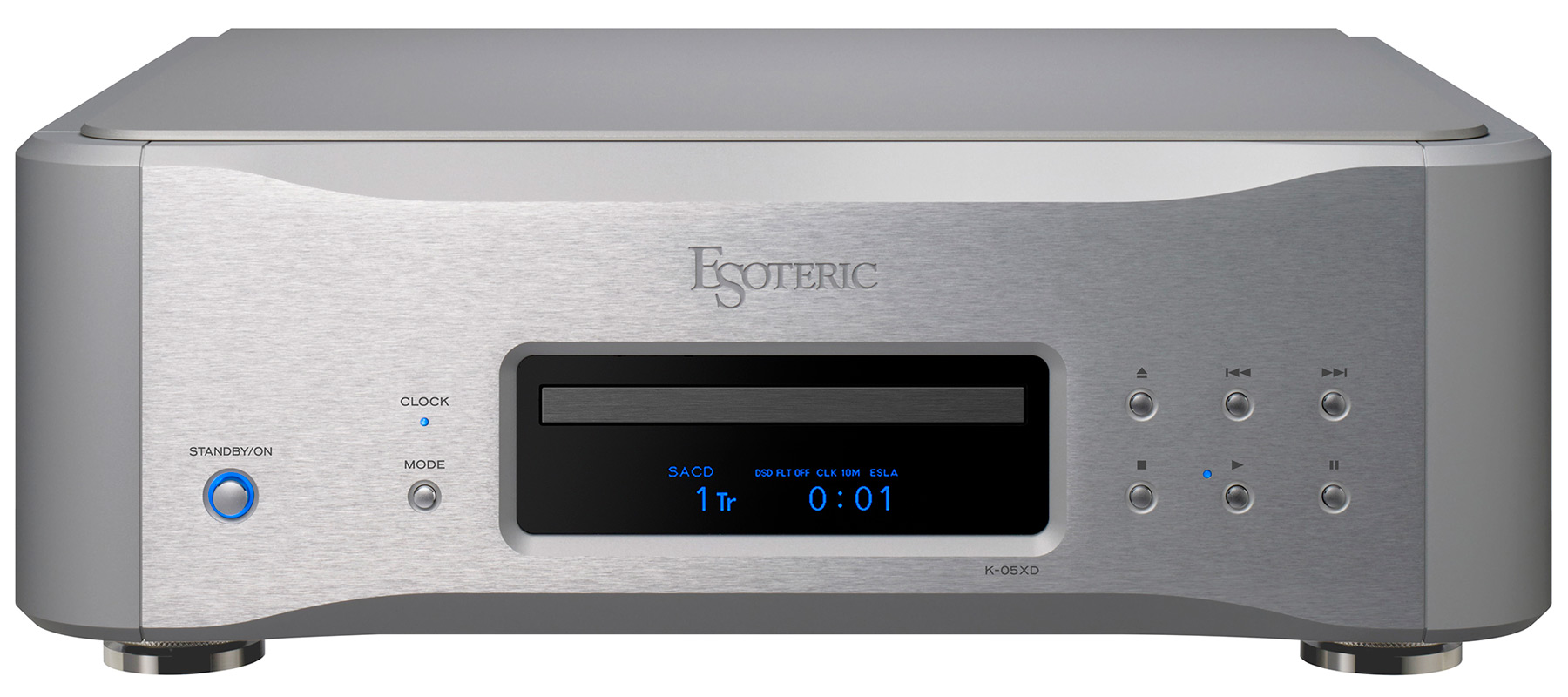 Silver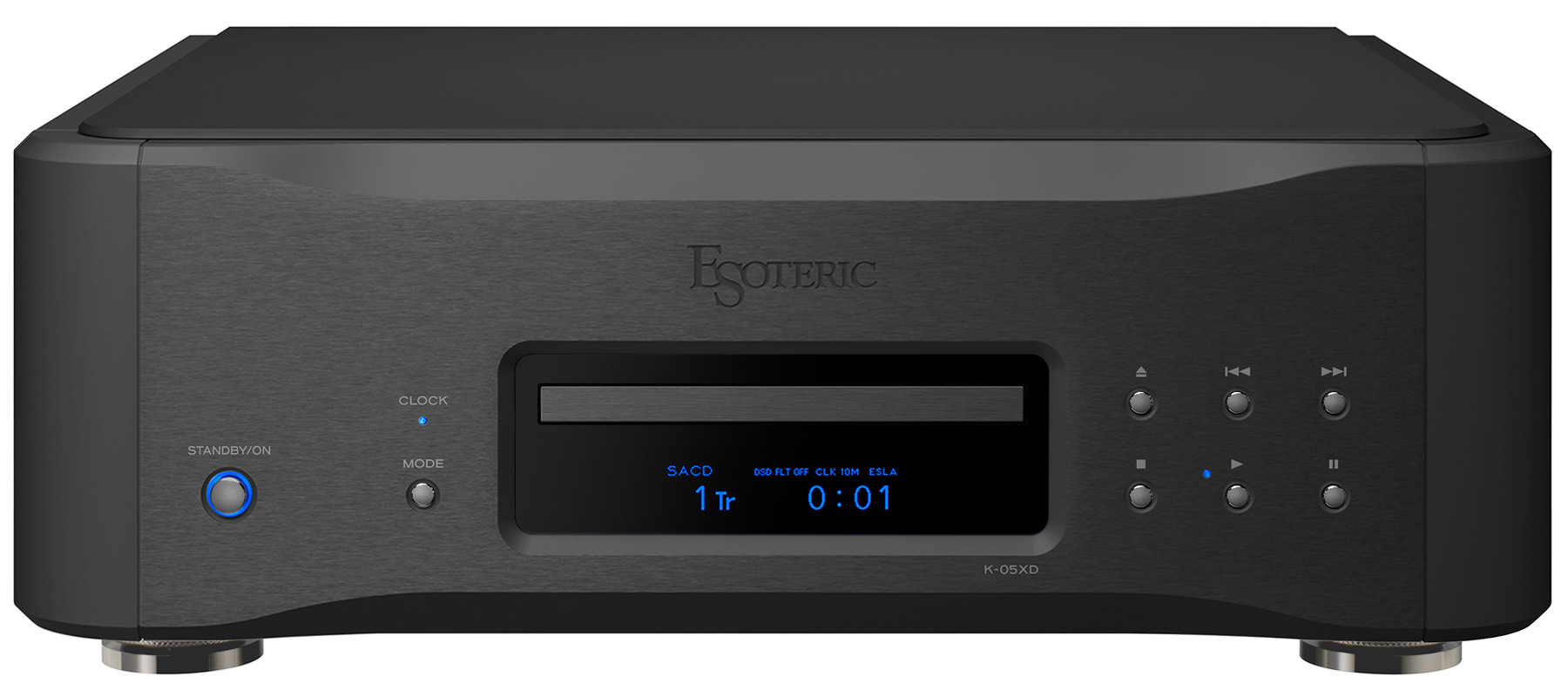 Black
K-05XD
The K-05, the core model of the "K Series," the lineup of ESOTERIC's renowned K-01 and K-03 Super Audio CD players, is now available in an XD Edition equipped with the VRDS-ATLAS and Master Sound Discrete DAC. The newly developed "Master Sound Discrete Clock" with built-in player is mounted.
Key Features
Newly developed "VRDS-ATLAS (ATLAS 05)" transport mechanism
Master Sound Discrete DAC with 64-bit/512Fs ΔΣ modulator
Newly developed Master Sound Discrete Clock with built-in player
10MHz clock sync function with external master clock generator
Unique ES-LINK Analog outputs with current transmission for full musical expression
ESOTERIC-HCLD, a current transmission-enhanced output buffer circuit boasting a slew rate of 2,000 V/µs
Three transformer configuration with two independent large-capacity toroidal transformers for analog and digital systems and one EI transformer for control system
Power supply with low-feedback discrete DC regulator
MQA full decoding circuit for MQA-CD playback
USB DAC function supporting DSD 22.5MHz and asynchronous transmission
Coaxial and optical digital inputs supporting DoP at 192kHz
XLR and coaxial digital outputs
Digital filter selection for PCM playback, analog FIR filter selection for DSD playback
External control port RS-232C terminal
Power ON/OFF control via trigger input
Remote control with buttons on both sides to operate ESOTERIC amplifier devices (RC-1333)