TAMA, TOKYO, JAPAN, JAN 11, 2023 – ESOTERIC COMPANY is proud to announce that a super audio CD/CD player, the K-05XD will be released.
Product Name
Model Name
Estimated Delivery Date
Sales Region
Super Audio CD/CD Player
K-05XD
Spring, 2023
Worldwide
Super Audio CD/CD Player
K-05XD B
Spring, 2023
Worldwide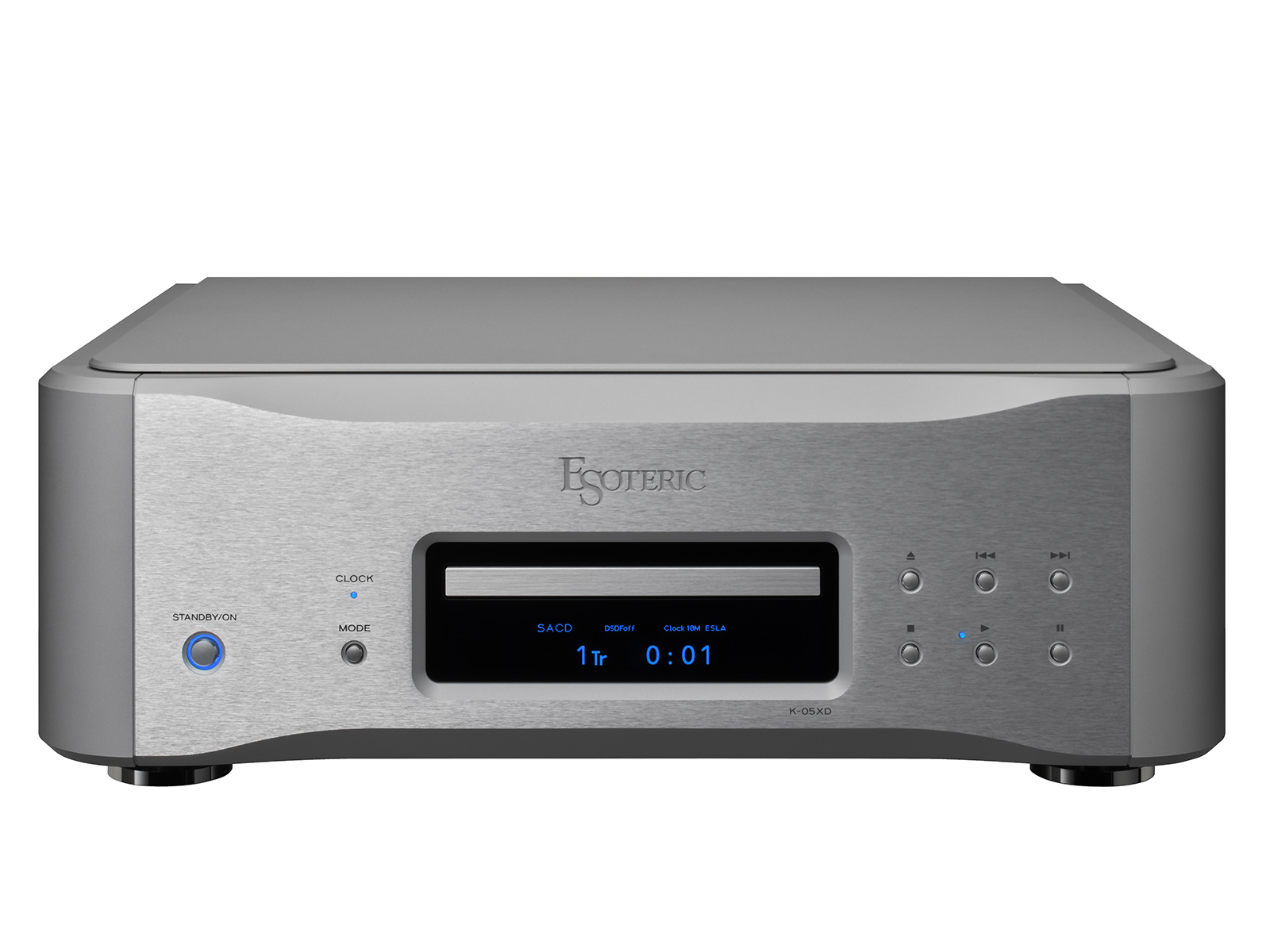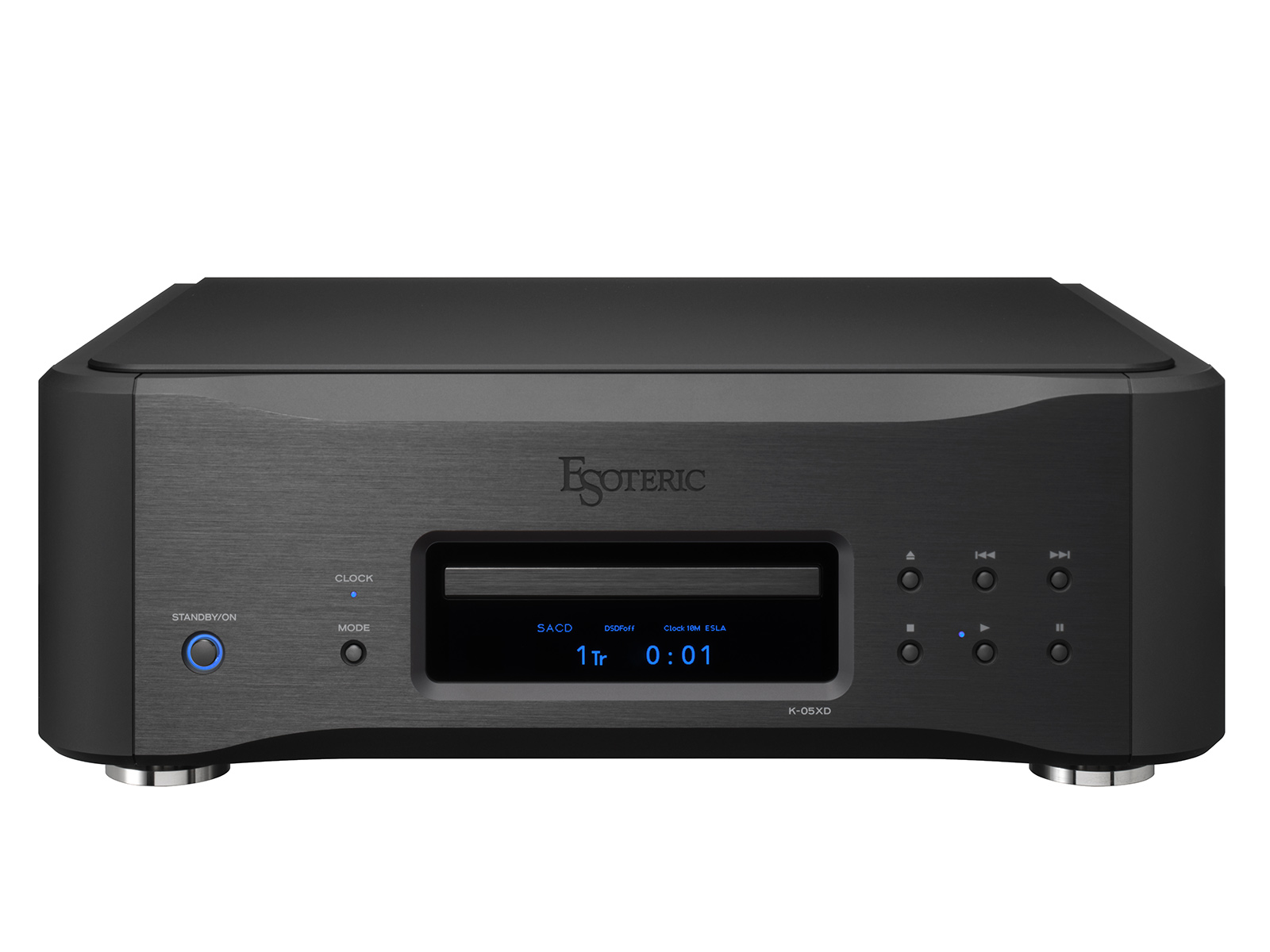 K-05XD
The K-05XD inherits the philosophy of the historic K-05 series, but has been completely redesigned as a Super Audio CD player completely different from the previous 05 models by completely revamping the design platform. The VRDS-ATLAS transport mechanism "ATLAS 05" is designed exclusively for this model, and the DAC section is a discrete circuit with "Master Sound Discrete DAC" to further refine the music reproduction capability. The Master Sound Discrete Clock for Digital Player, a unique discrete clock circuit for built-in players, incorporates the development results of the master clock Grandioso G1X. The chassis that houses the upgraded ATLAS mechanism, larger circuit blocks, and power supply section is double-layered inside and larger in size. The elegant appearance of this model, which is even closer to the higher-end models, subtly asserts the richness of its content, which is worthy of being called a major innovation. Enjoy the blissful sound of the K-05XD, which is the result of an encounter between the lineage of a famous machine that has captivated music lovers and new technology.
Newly developed "VRDS-ATLAS (ATLAS 05)" Super Audio CD transport mechanism
"Master Sound Discrete DAC" with in-house developed 64bit/512Fs ΔΣ modulator
Newly developed "Master Sound Discrete Clock for Digital Player" with built-in player
"ES-LINK Analog" output, a unique current transmission system that transmits all the energy of the music with a sense of presence
Esoteric-HCLD (High Current Line Driver), a current transmission-enhanced output buffer circuit boasting a slew rate of 2,000 V/µs
3-transformer configuration; 2 independent large-capacity toroidal transformers for analog and digital systems, and an EI transformer for control system
Power supply section with low feedback discrete DC regulator
10MHz clock sync function with external master clock generator
Built-in MQA decoder supporting all digital input sources as well as MQA-CDs
USB DAC supporting DSD 22.5MHz and asynchronous transmission
Extensive input/output terminals (192 kHz, DoP-compatible coaxial and optical digital inputs / XLR and coaxial digital outputs)
Digital filter selection for PCM playback and analog FIR filter selection for DSD playback
RS-232C for external control for CI market, and DC trigger input for power ON/OFF
Double-face remote control to operate Esoteric amplifiers (RC-1333)
Analog Audio Outputs: XLR/ES-LINK Analog × 1, RCA × 1
Digital Audio Outputs: XLR × 1, RCA × 1
Digital Audio Inputs: USB × 1, RCA × 1, Optical × 1
10MHz Clock Input: BNC × 1
Frequency Response: 5Hz to 70kHz (–3dB, SACD 0dB, DSDF: F2, XLR output)
S/N ratio: 110dB (IHF-A , SACD 0dB, DSDF: F2, XLR output)
Total harmonic distortion: 0.0007% (1kHz , SACD 0dB, DSDF: F2, XLR output)
Overall Dimensions (W×H×D): 445mm × 161mm × 357mm
Weight: 20.7kg
New Esoteric 05 series
The best high five, with your loved ones. The K-05XD is a minimalistic and beautiful styling completed by thoroughly refining quality with flagship technology. The ultimate in quality sound that takes the owner to the first class of audio. This is the core of the brand, the 05 series. The N-05XD is an innovative network DAC preamplifier that can be described as "the integration of the quintessential Esoteric". The S-05, a Class-A stereo power amplifier incorporates fruits of the R&D on Grandioso models. And the brand's iconic K-05XD Super Audio CD player is now deployed.